Major Taylor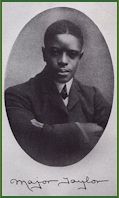 Marshall Walter ("Major") Taylor (November 26,1878 - June 21, 1932) was an American cyclist who won the world one-mile track cycling championship in 1899, 1900, and 1901. Taylor was the second black world champion in any sport, after boxer George Dixon.
The Major Taylor Velodrome in Indianapolis, Indiana and a bicycle trail in Chicago are named in his honor. On July 24, 2006 the city of Worcester changed the name of part of Worcester Center Boulevard to Major Taylor Boulevard. His memory is honored not only for his athletic feats, but for his character. Taylor was a devout Christian who would not race on Sundays for much of his career, making his success all the more remarkable.
Taylor was born on a farm in rural Indiana to parents Gilbert Taylor and Saphronia Kelter. He began as an entertainer at the age of thirteen. He was hired to perform cycling stunts while wearing a soldier's uniform, which resulted in the nickname "Major".